Don Ludlum
Don Ludlum was born in 1932, the second of three children to George and Grace Ludlum. He spent the majority of his childhood in Elsmore, Kansas and his teenage years in Greeley, Colorado where his family moved in 1946. His family owned a farm and a hardware store where he worked and learned about running a business as he grew up.
After graduating high school in 1950, Don attended college at Kansas State University in Manhattan, Kansas. He married his wife Joyce in 1953 and received a Bachelor of Science in Electrical Engineering in 1954. In the fall of 1955, while doing graduate work at Kansas State, he and Joyce had their first child. Don spent the first six months of 1956 in the Army, and after an honorable discharge, entered the Army reserves. Later that year he took a job in the radiation detection industry as an engineer for Eberline Instrument Company in Santa Fe, New Mexico. He worked there for five years, eventually becoming the chief engineer. During their time in Santa Fe, he and Joyce had three more children.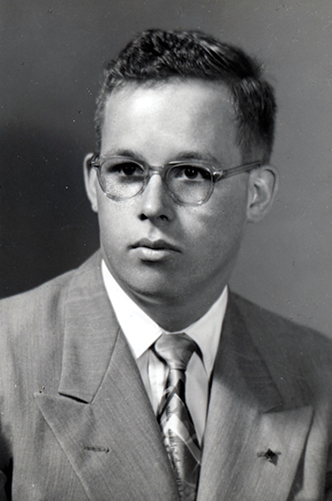 Don Ludlum in 1954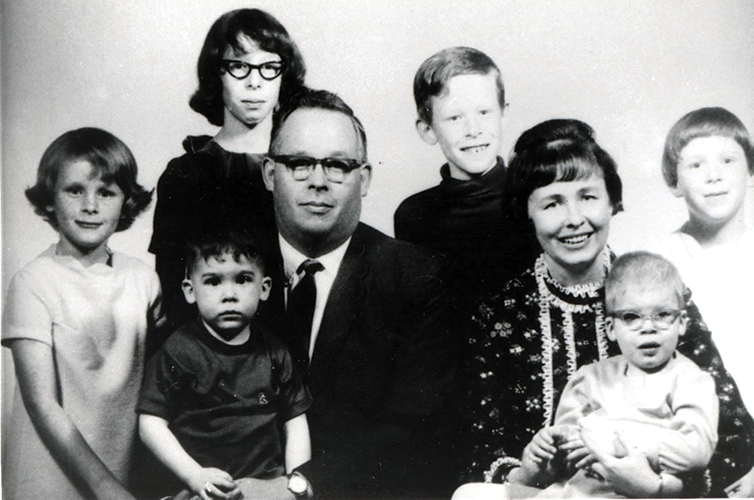 Don, Joyce, and their children in the late 1960s.
In December of 1961, Don decided to leave Eberline and start his own company. Not being fond of traffic or cold weather, he began looking at small communities in Texas to establish his business. While traveling with his father George to visit potential locations, a "blue norther" blew in where they were staying one night, bringing freezing temperatures with it. Looking for a place to stop for a hot cup of coffee the next morning, Sweetwater happened to be the first town they found with running water. Since Sweetwater was not on their initial list of towns to consider, they just stopped at a restaurant and then continued on their journey. However, after visiting the other towns, Don and George decided to go back and look at Sweetwater, since the people were friendly and George enjoyed the local fish stories from area lake goers at the restaurant where they had stopped. As they learned more about the town, they found that Sweetwater had many of the features Don was looking for. Ultimately Don selected Sweetwater as the location for his new business and moved there with his wife and four children in January of 1962.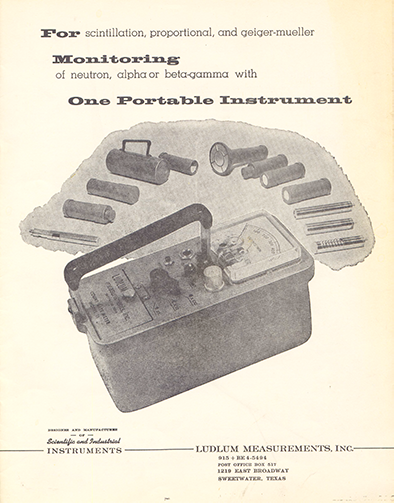 1963 Ludlum Measurements Catalog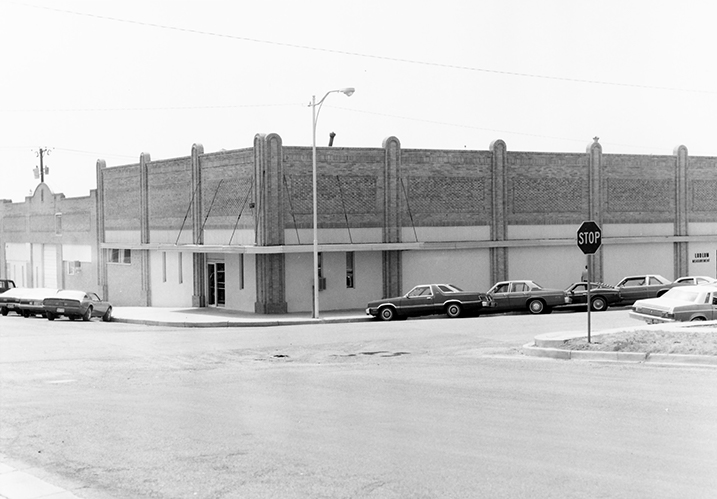 Ludlum Measurements main building in 1984.
Ludlum Measurements, Inc. (LMI) was incorporated on February 14, 1962. Initially working out of the kitchen of his house, Don immediately went to work on his first design, the Model 1. This instrument eventually evolved into the Model 3 Survey Meter and is still one of LMI's best-selling instruments. The company opened its first facility at 1219 East Broadway, and moved to its current location at 501 Oak Street in 1975. (See more company milestones on our Company Timeline.)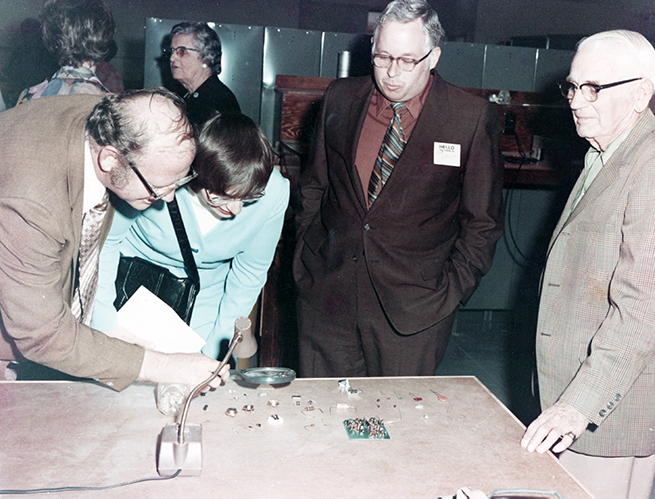 Don (center) and visitors at a 1975 open house.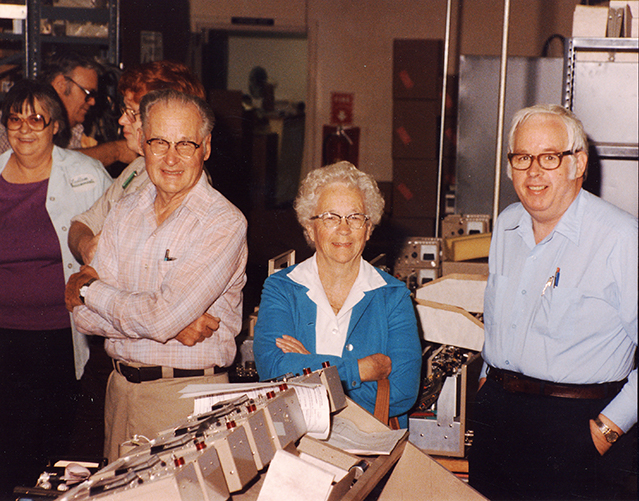 Don (right) with his parents George and Grace in 1984.
Along with the developing company, Don and Joyce's family continued to grow, with two more children born in Sweetwater. Sadly, however, Joyce passed away in 1978 due to ongoing health problems. After Joyce's death, Don became friends with Irene Peeples, who had worked at the company for a couple years. Don and Irene ended up marrying in late 1979.
Don remained involved in the company until his death in 2015, working into his early 80s. Larry Ludlum, Don's oldest son, became the company president in mid-2013. Today the company is still owned by the Ludlum family.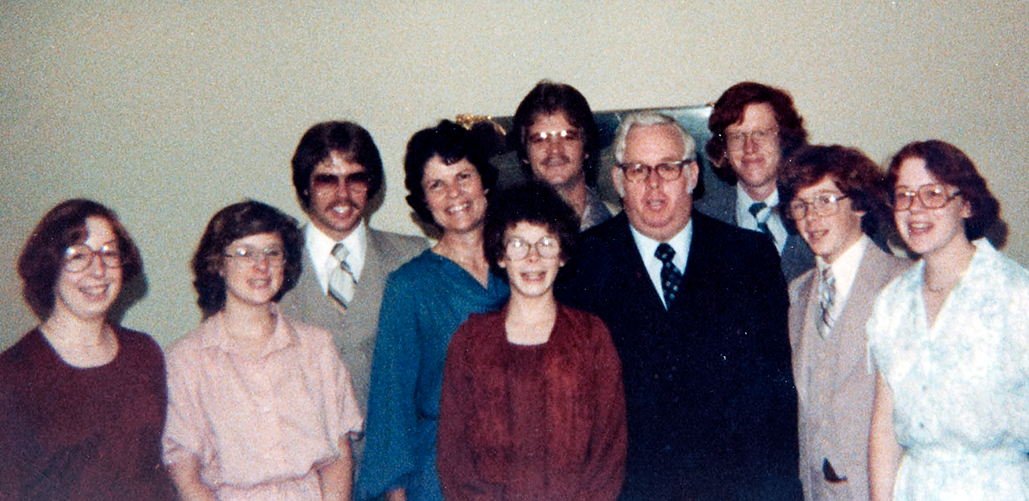 Don, Irene, and their children in 1979.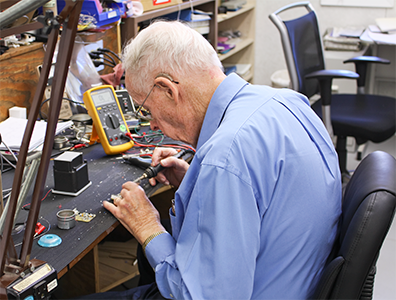 Don at his workbench in 2011.
Ludlum Measurements, Inc.
From Don's start with two employees, including himself, LMI has grown to around 630 employees across eleven different company divisions. Along with a wide range of radiation detection instrumentation, our product lines include organic scintillators, photomultiplier tubes, high performance alpha-beta sample counting systems, instruments for air monitoring, plastic injection molding, and specialty technical glass. We also have the capabilities to offer electronics design, development, and manufacturing. (Learn more about Ludlum Divisions.) Headquartered in Sweetwater, Texas, our other divisions are located in Knoxville, Tennessee; Boulder, Colorado; Draper, Utah; Uxbridge, United Kingdom; Stourbridge, United Kingdom; and Hamburg, Germany.
LMI is a family-owned business, and Don strove to foster a family-friendly work environment. Having briefly worked for a company without that focus early in his career, it was important to Don to incorporate a family-friendly environment in his company. Our focus is to take care of our employees as well as our customers.
Throughout our history, we have remained true to Don's customer oriented business philosophy. He established LMI with the goal of not only having standard catalog items that are available off the shelf for quick delivery to the customer, but to also remain responsive to customer requests. Our website displays our current product lines, most of which can be modified according to a customer's needs. We also offer extensive instrument repair and calibration services, supporting all instruments we have ever manufactured, as well as radiation detection instruments from other manufacturers. Our goal is to meet our customers' needs in whatever way we can.